Meet our latest Farm Safe Schools Regional Winners
We are so excited to share with you the latest winners in our Farm Safe Schools Regional Champion awards. Over the whole programme, 8 regional champions are chosen.
The Champions were selected after being nominated by their teachers and will be awarded a certificate of achievement and a family pass to Dublin Zoo, kindly sponsored by the Department of Agriculture, Food and Marine. These Champions are truly demonstrating excellence, innovation and commitment to improving farm safety awareness as part of the Farm Safe Schools programme.

They have gone above and beyond what is expected of them within the programme. They are passionate not just about farming but about making sure the message of farm safety is included and very much part of the conversation in their classrooms, at home and in their community.
The second and final round of winners are:
Leinster: Niamh Lowe, Saint Laurence O Toole, Wicklow
Munster: Tomás, Banteer National School Cork
Ulster: Pascal, St. Francis N.S Donegal
Connacht: Morgan O'Donoghue, Tarmon National School, Roscommon
Scroll down to see meet the winners
Farm Safe Schools coordinator and AgriKids founder, Alma Jordan explained what made the winners stand out from the crowd.
'We knew from the pilot programme how important these awards are. They allow us to pause and reflect on a school's programme journey and the chance to recognise true ambassadors of farm safety'.
'We received a huge volume of entries and it proves the ability and capability of our children to change the culture around farm safety'. We also have chosen runners up such was the quality of entries. The winners have clearly demonstrated their passion for this topic and their willingness to share their learnings at home and with their classmates. They are growing the farm safety conversation and this is exactly what Farm Safe Schools is all about'.
Agri Aware Chairman, Alan Jagoe expressed his delight to all the regional winners.

"The Farm Safe Schools programme sets out to create learning and understanding on the topic of farm safety to younger children. These regional award winners are a testament to the talent, tenacity and potential our children have in creating a safer future on Irish farms. I want to thank their teachers for bringing the programme into the classrooms and for recognising the champions in their class'.
I would like to thank the Department of Agriculture for its continued support of this dedicated farm safety programme," added Mr Jagoe

Meet the winners
Leinster: Niamh Lowe, Saint Laurence O Toole, Wicklow
Niamh has really gone above and beyond to share her farming knowledge with the class. She has done presentations to the class about the countryside code, created her own farm safety video, informing the wider school of animal care and general safety around the farm. Her mother said that she loves going up with her uncle during lambing season especially and really loves to gets stuck in. She is a fantastic help on the farm and has been an exemplary farm safe student in our school.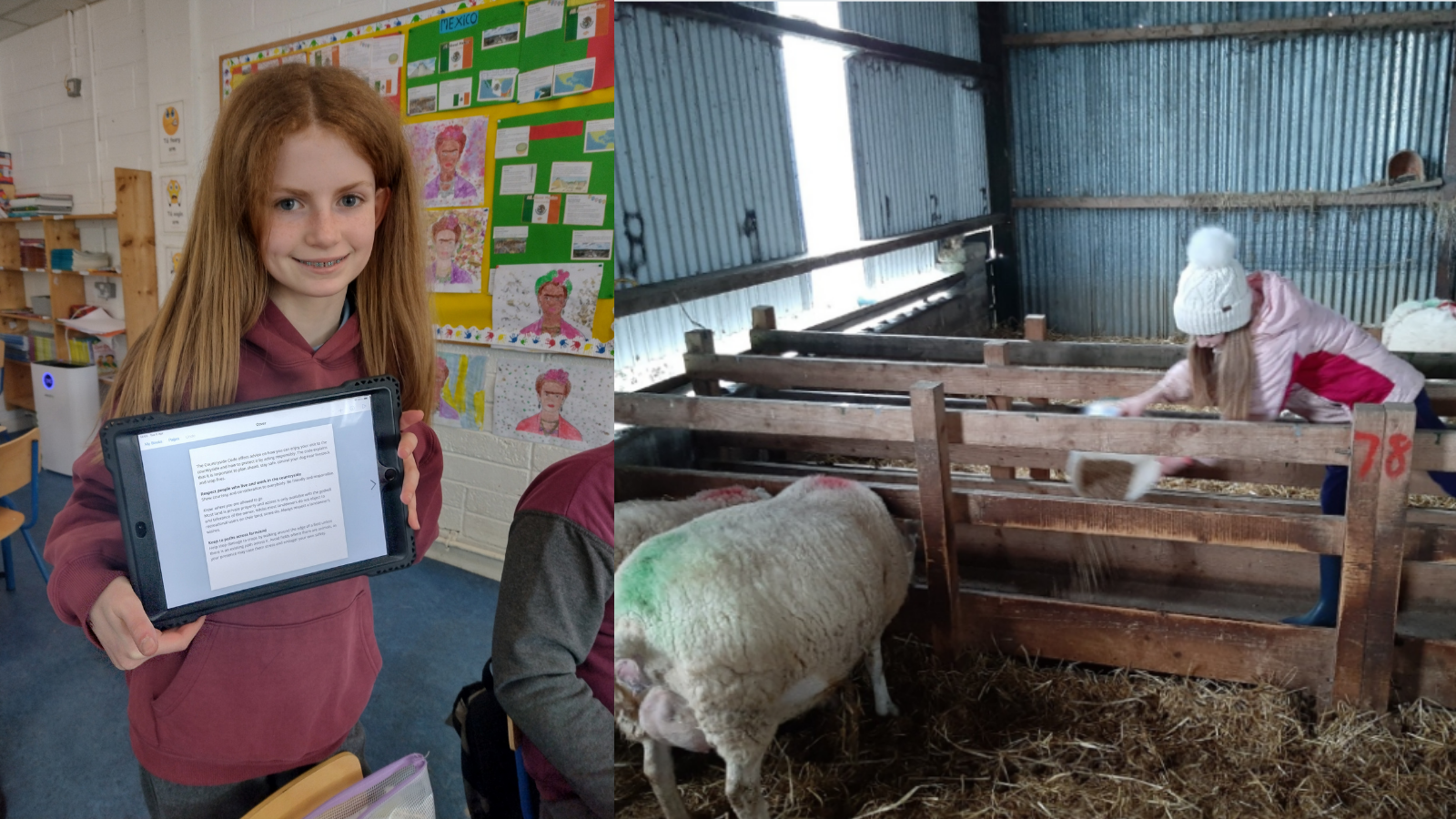 Munster: Tomás, Banteer National School Cork
Tomás has been very busy on his Farm Safe Schools journey by regular postings to the class' website and completing the booklets. He has learnt all about safety signs, chemicals on the farm and the various machinery dangers. In fact Tomás completed a presentation which showed how he is putting his knowledge into practice when he is on his family's farm.
Ulster: Pascal, St Francis NS, Donegal
Pascal's teacher told us he is farming mad and is out before and after school every day helping fodder the cattle and sheep, look after lambs or whatever other jobs need to be done. Pascal was busy educating his class mates on how jobs need to be done safely on the farm and the importance of knowing the dangers we face when on the farm. He drew up a map of his own farm, identifying the dangers in different areas and has made sure that all the correct signs are in place so as to keep it safe for his dad, brothers and any visitors. We were also super impressed that Pascal completed all the worksheets and activities in class and at home over the midterm break. Now that's dedication for you!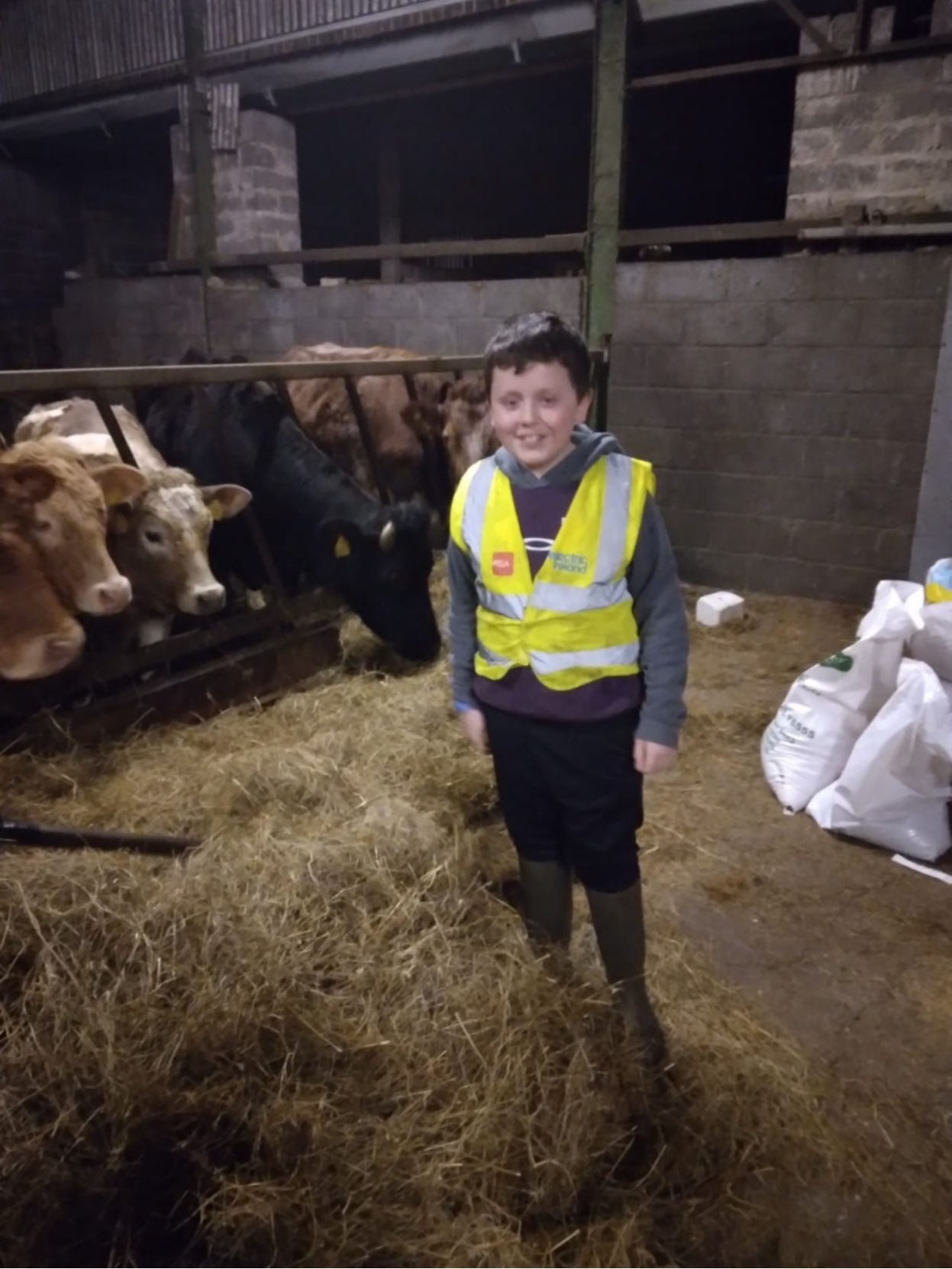 Connacht: Morgan O'Donoghue, Tarmon NS, Co Roscommon

Morgan is extremely interested in farming and everything associated with farming, his Dad being a vet gives him an extra interest. He is very aware of safety around farms, farm animals and farm machinery. He looks after his own sheep and dog at home, making sure that the safety signs are evident and that the animals are cared for very well. His grandparents come from Inis Mór and he enjoys farming safely there too. He tells his teacher and peers of how they farm safely on the island. We have hens at the school and Morgan is very involved in looking after them with his peers. He feeds them every day at school and keeps the coup clean and tidy for them. He came back last weekend to paint the coup with his mum. He is on a rota for caring for the hens at weekends and holiday times. Morgan loves old tractors and teaches his class all about them. He has gained lots of knowledge about safety around machinery during the programme. Morgan was nominated for the Farm Safe Schools' Regional Champion Award because of his wonderful enthusiasm around farming- animals, farm machinery and safety around all of this which he promotes at home, on the island and at school. Morgan's other love is gardening and sowing vegetables which he does with enthusiasm in the school garden and polytunnel. Morgan is very grateful for being given the opportunity to participate in the Farm Safe Schools project and is very knowledgeable in this area as a result.