Farm Safe Schools News June 2022
In this edition
Meet our National Champions
Farm Safe Schools Survey - you could win a €50 One4All Voucher
Farm Safe Schools 2023
Farm Safe Schools in action
__________________________________________________________________________________________
Thank you to everyone to took part in Farm Safe Schools 2022. The standard of submissions exceeded our expectations and we couldn't be prouder for all our newly accredited Farm Safe Schoolers.
Read on to meet those Superstar schools who were crowned our National Champions. Take part in our survey and take a trip down memory lane to see highlights from this year's programme.
Meet our Champions
Safety keyrings for famers and a farm safety themed entry for village St Patrick's Day parade help crown the Farm Safe School National Champions for 2022. St Josephs National School, Killenummery, Co Leitrim are the National Winners in the School category, while the class winners are the 5th and 6th class in Athlacca, National School, Co. Limerick.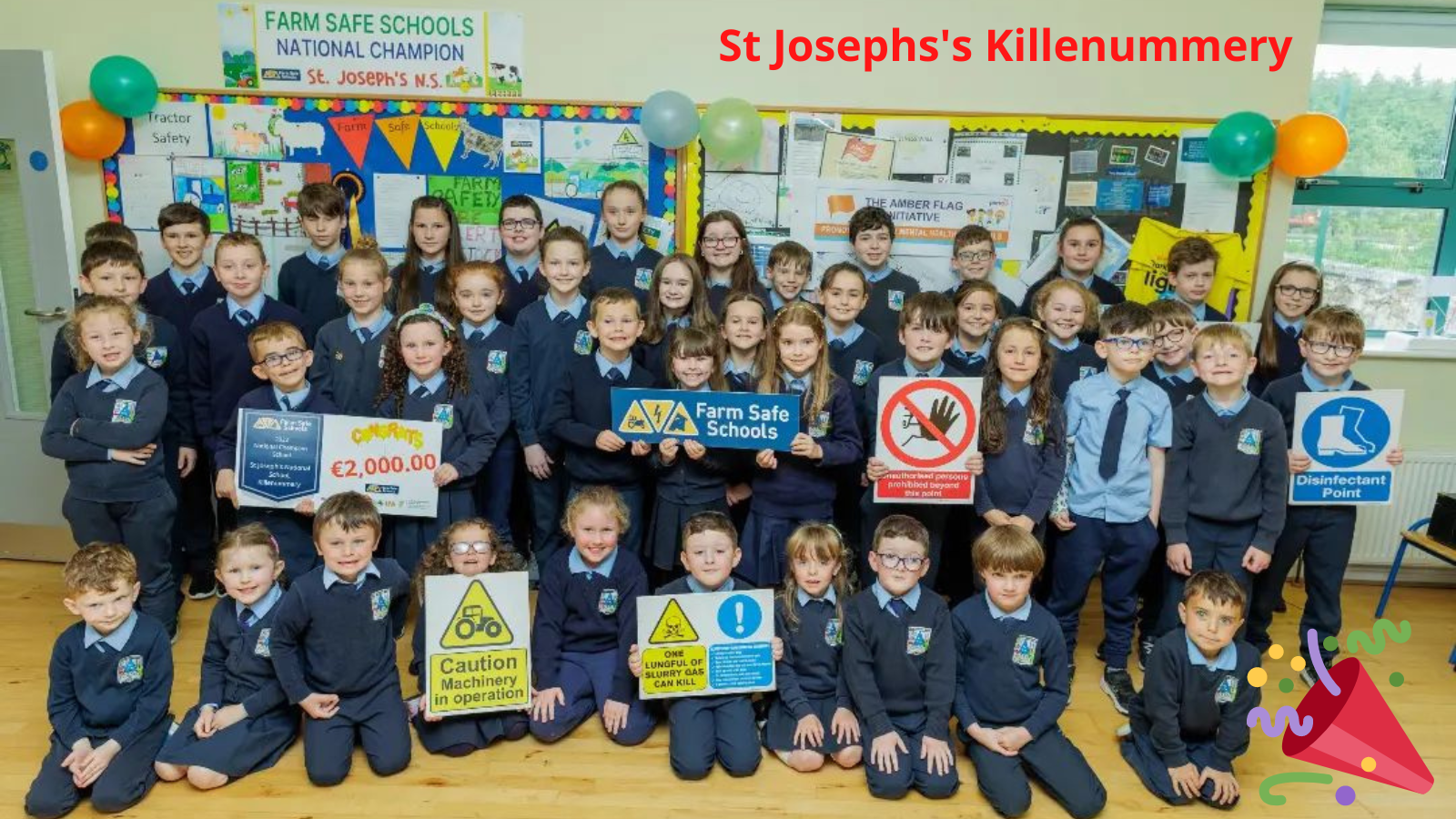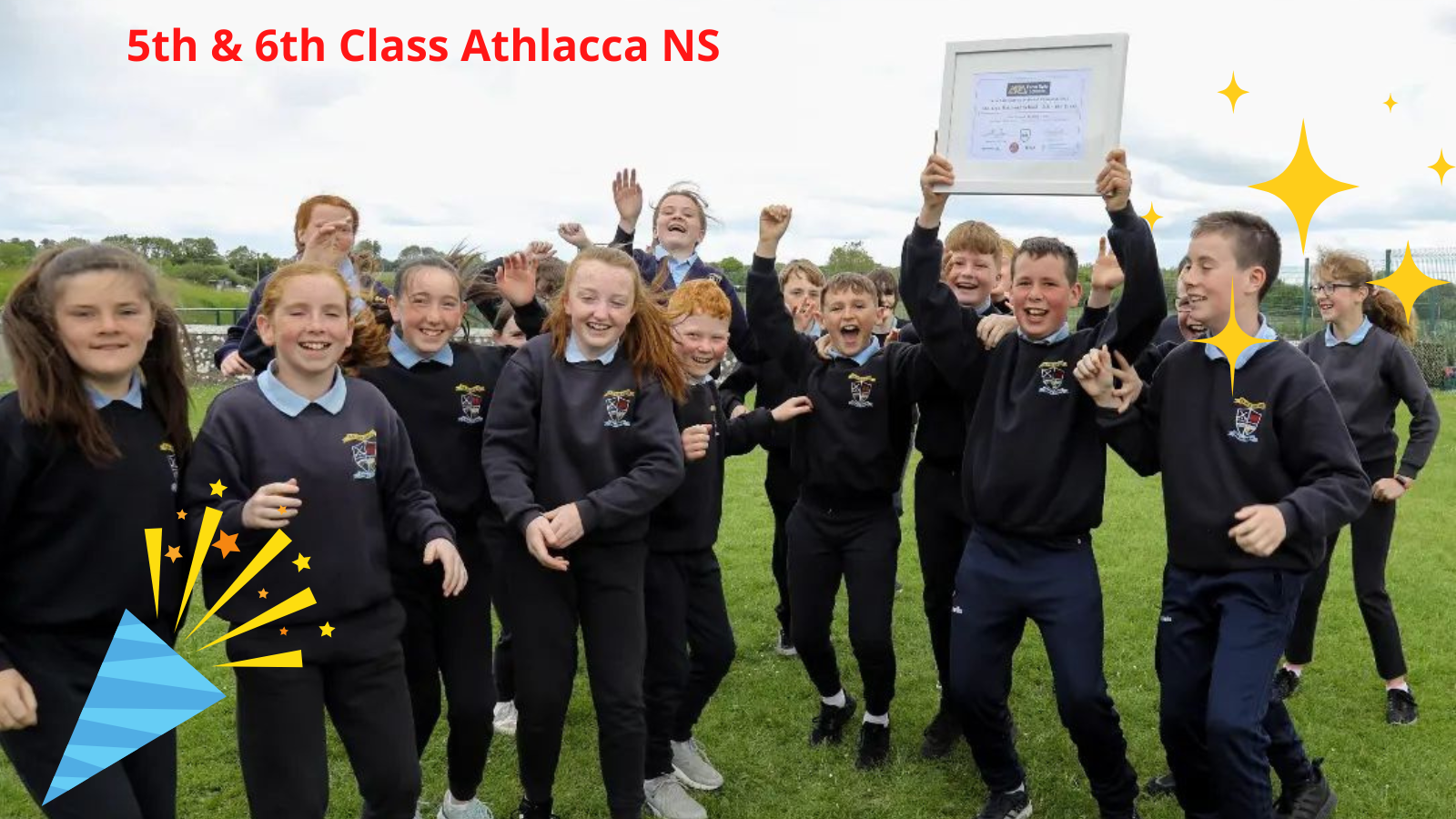 Both schools had been awarded the highest level of accreditation in this year's programme which automatically qualified them for the National Awards.
Those submissions who achieve the Superstar status of accreditation went forward for the national champions, of which was a hotly contested competition.
Farm Safe Schools coordinator and AgriKids founder, Alma Jordan explained what made the winners stand out from the crowd.
'20,000 children registered for the programme which proves how much this programme and its learning outcomes are valued.
Our winners today have already shown how capable they are by achieving superstar status but what led them to taking the top honours comes down to the way by which they took the information learnt and disseminated it around their school and communities.
St Joseph's really engaged with the materials and created their own lessons through play, they invited speakers, surveyed farmers and then took the message to their community by choosing farm safety as the theme for their St Patrick's Day parade, (and they won best parade entry too!) It sends a very powerful message to adults when young children take on such a serious topic. Our Class winners, the senior class in Athlacca NS, ran surveys throughout the school, created Safe Stop keyrings for tractor safety and also ran an 'Eye on Safety' project where they identified safe practices on local farms and brought them to school to display on boards.
Identifying and creating awareness drives the impact we need to achieve in Farm Safe Schools, these national champions are a testament to that.
Minister Martin Heydon, with special responsibility for Farm Safety had this to say. "The Farm Safe Schools programme plays an important role in our efforts to improve farm safety. By engaging with children, some of whom will be tomorrow's young farmers, this programme is an opportunity to ingrain a lifelong culture of safety in their approach to farming".
Agri Aware Executive Director, Marcus O'Halloran expressed his delight to the national winners.
"The Agri Aware Farm Safe Schools Programme is one of our most important as it aims to save lives by improving farm safety.
"The children are really bringing their learning home to their parents and grandparents. It is great to see the effort and imagination that goes into the annual submissions from the programme and the long-term benefits will be overall improved farm safety.
Farm Safe Schools Survey
There is still time to take our Farm Safe Schools survey where you could win a One4All Voucher.
We want to make this programme the best it can be. We would really appreciate it if you could complete the following survey. All who do so will be entered into a draw to win a €50 One 4 All voucher. https://bit.ly/3a1Ij0C
Even if you registered and didn't complete the programme your opinion is important to improve the running, participation and experience of the Farm Safe Schools programme. Entries close on June 24th 2022.

Farm Safe Schools 2023
We will be taking initial registrations for Farm Safe Schools 2023 in September. Please refer back to
www.farmsafeschools.ie
or
www.agriaware.ie
for details on how you can be part of the Farm Safe Schools Class 2023.
Farm Safe Schools in action
Take a look at some of the highlights from Farm Safe Schools 2022